2019 Spring Break Experiences
Check out what Miner Challenge accomplished over Spring Break 2019!
Indigenous Nations: Fostering reservation wellbeing & supporting native identity
Tuba City, AZ | March 23-30, 2019 | Flying | $500
Investigate the factors at play surrounding impoverished native reservations across America by working with the Red Feather Development Group and the Moenkopi Senior center to improve housing for a low income native family and to learn about Hopi and Navajo culture.
Native American culture is bright yet their history has been plagued with loss and poverty ever since the colonial era. In modern times, reservations are still struggling to prosper. Now, Native American communities are fighting poverty, high rates of suicide, drug problems, and alcoholism. Widespread poverty can lower quality of life and general happiness. Many native people living on reservations are living in inadequate and unhealthy housing. Team members will work with local residents to repair and improve their residences and learn about housing upkeep practices. The team will also dive into discovering and supporting native culture by planning a day of activities with Hopi members at the Moenkopi senior center. Through hands-on and engaging experiences, team members will be able to give back to the native community and better understand the poverty that is common on native reservations, along with gaining increased appreciation for the true native identity.
WHAT DID THEY DO?

Team Indigenous Nations had a great week of service and adventuring on the Navajo Nation in Tuba City, Arizona! The adventure started off with a flight to Phoenix, which led us to a Farmers Market and the Desert Botanical Gardens. Next, the team travelled to Flagstaff to sleep before a day full of sightseeing at the Grand Canyon National Park. Once the free time was over, the team started the wheelchair ramp work with the Red Feather Development Group. They really enjoyed working with two Navajo contractors, Willie and Melvin, who helped them throughout the week with the construction. They taught the team a lot about culture, tools, and just the general ways of life. Midway through the week, the team visited the Moenkopi Senior Center on the Hopi Reservation. The elders shared stories and life lessons with the team as they played Rummikub. One fact that everyone on the team learned was that the Hopi wedding process usually takes TEN years to complete and is heavily centered around corn. On Friday, the team got to celebrate a great week by attending the local flea market. They enjoyed traditional Navajo foods and crafts while bonding more with each other! By the end of the week, the team completed 2.5 ramps/porches for three homeowners in Tuba City. This included around 305 service hours in total. The trip leader, Shelby, says she's really proud of the team's strength and ability to reflect deeply about the work they did and the social issues going on. What a great experience!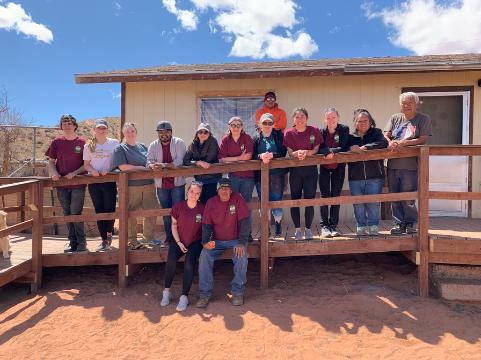 Homeless Veterans: Supporting the men & women who served us
Colorado Springs, CO | March 23-30, 2019 | Driving | $300
Visit one of the most densely populated veteran communities in the U.S. and work with Colorado Veterans Resource Coalition to renovate living quarters for veterans who are homeless and receiving support for mental health or substance abuse.
Colorado Springs has over 50,000 citizens who served in the military, making it one of the highest military veteran populations in the country. Unfortunately, veterans have twice the likelihood of becoming homeless as other Americans due to factors including a shortage of affordable housing, large skill gaps between the military and civilian world, and lack of social support networks. In addition, many of these veterans come back home with post-traumatic stress disorder (PTSD), which only escalates the struggle of readjusting back to their lifestyle. The Colorado Veterans Resource Coalition (CVRC) provides veterans with emergency housing and offers programs on substance abuse and mental health to get them back on their feet. Team members will work specifically with CVRC's Crawford House, renovating rooms and living quarters for homeless veterans. Through working directly with Crawford House's program director, a retired U.S. Air Force veteran with 24 years of service, students will gain an understanding of the positive impact our service members make on our country and the support networks that they need when coming home.
WHAT DID THEY DO?

The Veterans Team travelled to Colorado Springs, CO to spend a week working on projects with The Mission Continues. During the first two service days, the team worked at Eagle's Nest Ranch. On the first day, participants spent the day painting gates, installing rebar for the concrete floor, organizing supplies and office rooms, and cutting trees all while working alongside veterans and other community volunteers. The following day consisted of laying concrete flooring, cleaning up around the ranch, and gathering and transporting supplies. The team headed to StableStrides on the third and fourth days of service, and had a group lesson in horse therapy where they were able to connect with the horses and understand how the horses help clients. Afterwards, the team assisted with chores around the barn. The second day at StableStrides was more intense. The team cleared a large area for horses to roam around in, composted organic material, and cleaned the multiple stalls for the horses to comfortably sleep in. Both Eagle's Nest Ranch and StableStrides are non profit organizations that conduct horse therapy for disabled children, adults, servicemen, and veterans. The team was able to see the impact of their volunteer work each day and how it directly helped those who go to the therapy sessions. The team also worked a day at Aurora Central High School with other veterans to renovate the baseball concession stand in order to allow the baseball team to sell items and begin raising funds for their program. Participants painted wooden fencing and furniture, removed tiles from the floor, and cleaned the area. A free day was also included during the trip, and it was spent visiting Pikes Peak, Garden of the Gods, and exploring downtown Denver. This trip challenged us in ways which opened ourselves up to a new perspective, but it brought us closer together as a team, as citizens, and as a community.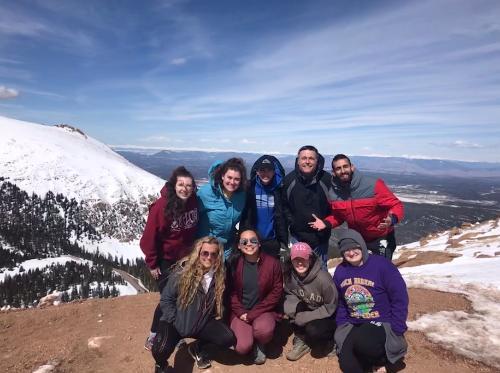 Wildlife Conservation: Implementing solutions to protect the diversity of our planet
New Orleans, LA | March 23-30, 2019 | Driving | $300
Explore the current issues regarding animal welfare and conservation as we work with the Audubon Nature Institute to maintain facilities such as their animal rehabilitation center, zoo, and aquarium.
There are currently 41,415different species on the IUCN Red List of Threatened Species. The Red List includes all species that are endangered at varying levels; some animals have only 30 left of their species, while others have a few hundred. Either way, they all need protection. According to the World Wildlife Foundation, the world has lost half of its species in the past 40 years. Audubon Nature Institute, located in New Orleans, Louisiana, has programs in place to protect a wide variety of these red listed species, including a zoo, an aquarium, an insectarium, a 5,000 acre animal rehabilitation area, an insect breeding area, and a nature center. All of these facilities work to increase knowledge of endangered species or work first hand towards the preservation of these animals. The team will gain hands-on experience by helping maintain facilities through minor construction projects, removing invasive plant species, helping with special events, working around animals, and engaging in discussion with animal experts. By doing this, our team hopes to contribute to the salvation of various species over time. While we work to create a positive environment and gain knowledge through first-hand experience, team members will get to see some of the endangered species we are working to protect and keep alive for years to come.
WHAT DID THEY DO?

Wildlife Conservation is a very important topic that needs more attention. Because of this, Dani Blackard decided to lead a Miner Challenge trip with this focus to New Orleans to work with Audubon Nature Institute. While working with Audubon, the team helped with landscaping tasks around the park like removing bamboo from the giraffe habitat, pulling invasive trees from the nature center trails, distributing mulch to a trail 3/4 of a mile away, planting native trees, and distributing mulch in the Zebra enclosure. The team was also able to help create some items for the animals, including bird cages for the zoo hospital and animal enrichment toys, as well as collected trash within a local park. During their free time, the team was able to explore New Orleans and the zoo, and even got to pet a rhino! They had a blast while making a huge impact on the community and establishing connections to last a lifetime.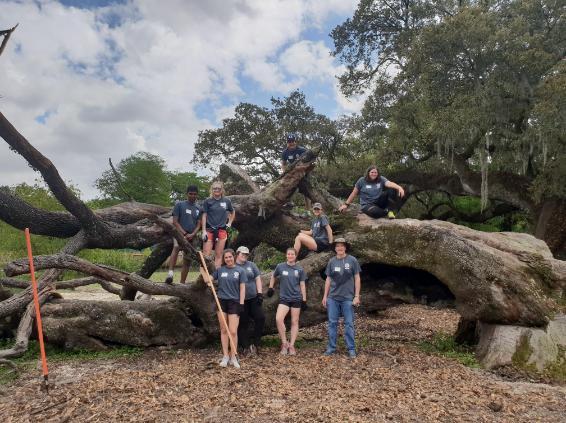 Education & the Arts: Investigating the effects of education cutbacks in rural America
Charleston, WV | March 23-30, 2019 | Driving | $300
Analyze and engage the underfunded educational systems of the Appalachia region as we work with the Charleston Public Arts Department to bring art awareness to the city, and assist Step By Step WV with after school programs to provide art enrichment to kids in rural schools.
West Virginia is a rural state located in the heart of the Appalachian Mountains, surrounded by coal mines and national forests. While this area is unique in its beauty, public education has struggled for more than 20 years. One in five teachers leaves West Virginia's public education system after just one year of teaching. Although teachers recently gained a 5% increase in pay through a 9 day strike, West Virginia is still among the 5 lowest states in the nation for teacher pay. Underfunding and unbalanced state budgets have resulted in cutting back the education budget by 4 percent per student per year. Because of these cuts, supplemental courses have been the first to be cut back, including the arts. To help combat this trend, team members will work with Step by Step West Virginia to run an after-school art camp over the course of the week. Our team will also pair with WV students before the trip to act as pen pals, instilling a positive image of art and education from a role model perspective. In addition, team members will be working alongside the Charleston Public Arts department to host a community mural painting day in the city, raising its citizens' awareness of art in the city.
WHAT DID THEY DO?

Team Education and the Arts had a successful week of volunteering in West Virginia. Our team assisted Step by Step, a local non-profit that provides educational services around the entire state. Our service, while mainly based in their central location of Charleston, took us to all parts of the state, including the town of Logan and the rural community of Big Ugly.
On Monday, we were located in the township of Big Ugly, with our primary service being directed towards their food program, Grow Appalachia, and their after-school program. Grow Appalachia is able to provide many families with locally grown food and we were able to plant 17 trays of tomato seeds for them to begin to grow in their greenhouse. In the afternoon, we were assistants in their after-school program, painted a lemonade stand for their community fair and participated as interviewees in their college investigation activity.
While in Charleston, the team was able to begin preparations for Step by Step's biggest current project: converting an abandoned building into the next branch of the Charleston Public Library. The building was located in an area where public services aren't as available to the citizens as in other parts of the city, making this project even more noteworthy. The first day of the team's efforts included cleaning and organizing the building, which housed around 5,000 books that were also re-organized. This was able to provide us a space to design and paint an inspirational mural for the enjoyment of the whole community. We finished the mural on our last day of service, and were able to leave a piece of the mural open for the kids of the community to finish on their own.
The team also worked on the wall that protects the garden by creating outdoor murals that team members were able to paint individually, making sure that everyone left a piece of themselves behind. On the Thursday of our trip, we were able to help out with the Charleston after-school program, where we were able to play with the kids outside and provide them with games for their exercise.
Overall, the team had a wonderful experience with our trip and we're excited to see how our service impacts the futures of these children's lives.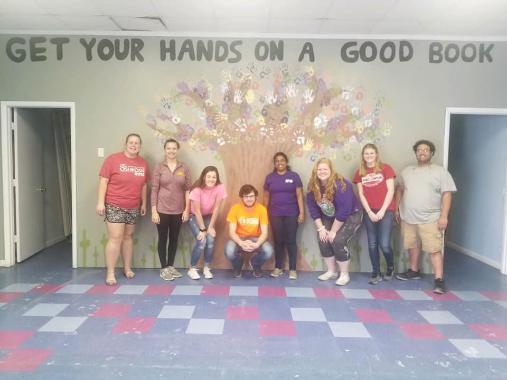 Hunger & Homelessness: Combatting food insecurity to improve quality of life
Conway, AR| March 24-28, 2019 | Driving | $200
Help address food insecurity and homelessness by working with the Community Action Program of Central Arkansas to sort and serve food and interact with people experiencing homelessness.
No one should go to sleep hungry. Over the past few years, Arkansas has been placed among the worst states for food security. Although the national average of people who don't have secure, continuous access to food is about 13.4%, according to the last census Arkansas was experiencing a 19.2% food insecurity rate. This is equivalent to over 560,000 residents in the state experiencing insufficient amounts of food within the last 12 months. Food insecurity is closely tied to people living below the poverty line. Statistics show that poverty touches a large proportion of Americans over their lifetime. Sometimes it is a chronic condition that persists over several generations. More often, poverty comes as a consequence of life's unremarkable tragedies-illness, job loss, divorce or disability – that can destroy a family's ability to support itself. In order for people to succeed and thrive, their basic needs must first be met. The Community Action Program for Central Arkansas is dedicated to providing opportunity and resources that are essential for their community members to succeed. Team members will work with some of CAPCA's many programs to help address the issues of food insecurity and homelessness in Conway, Arkansas. Our team will work to sort, organize, and distribute food through the food pantry and interact with locals through Project Homeless Connect. Through helping to provide Conway residents with basic needs, we can help empower lives, expand self-awareness, and increase community involvement.
WHAT DID THEY DO?
The team that traveled to Conway, AR worked with 3 partners under the social issue of hunger and homelessness. On Monday, the team worked with Conway Ministry Center on organizing the food pantry, moving furniture, and picking up trash outside of the building. On Tuesday, the team went to Soul Food Café Mission, an organization that provides weekly services to people living with food insecurity and homelessness. The team worked in the food box area and managed to box around 290 food boxes (34 lbs each) to be distributed to the ones in need (9860 lbs total). On Wednesday, the team was able to help Bethlehem House, a local homeless shelter, by cleaning the toys in the children's play room as well as painting the walls and organizing the linen closet. Working with three community partners was really unique, and gave the team a chance to learn from various organizations about the issues of hunger and homelessness in Conway. On the team's free day, they went to Petit Jean State Park and had a hiking trip.