Application Information for Participants
Below you will find detailed information about the application and program, including participant expectations, financial information, fundraising expectations, and important dates. We encourage you to read over this detailed information before applying to the program.
---
About the Miner Challenge Experience
Miner Challenge is Missouri S&T's Alternative Break program. Every year, students engage in immersive volunteer experiences across the U.S. and Internationally. Participants bond with a small team throughout the year while they develop leadership skills, gain awareness of social issues, and work to improve communities. Participants will meet with their teams weekly and participate in fundraising and program activities from October until the dates of their trip. The experience culminates with a substance-free alternative break service trip that lasts 8 days over Spring Break. Each trip concentrates on a specific social issue within communities that are facing that social issue.
Participant Expectations
Participants are required to be enrolled as a full-time student during the fall AND spring semesters of the 2019-20 school year.
Participants are required to agree to the following expectations upon acceptance into the Miner Challenge Program.
Abide by all Miner Challenge guidelines and expectations, university policies and procedures, policies of organizations your team serves or interacts with, and federal, state, and local laws.
Exhibit flexibility, open-mindedness, and positivity throughout the entire Miner Challenge experience.
Demonstrate a serious commitment to the time required to participate in Miner Challenge.Meetings need to be a priority in your schedule.
Participate in all pre-break activities.Examples include team meetings, fundraising, pre-trip service, & socials.
Participate and contribute as fully as possible to all fundraising efforts for the program.
Gain an awareness of the social issue focus and location of your trip.
Maintain communication with team leaders, Miner Challenge Peer Involvement Advisor, and the Program Administrator for Volunteerism and Greek Life.
Meet all financial commitments in full and on time.
Complete and submit all required paperwork on time.
Refrain from purposely putting yourself and/or peers in dangerous or illegal situations.
Fulfill post-break commitments, including the Miner Challenge program evaluation, team reflections, and preparation for and participation in the Miner Challenge Celebration.
Serve as a respectable representative of the Miner Challenge Program and Missouri S&T.
Remain substance free (refrain from alcohol/drug consumption regardless of legality) during the trip, including pre- and post-trip events/meetings. Violation of this policy will also be referred to the Dean of Students Office.
Violation of expectations, university rules, or federal, state, or local laws may result in separation from the program at the participant's cost, and/or review by the Office of Community Standards & Student Conduct. If participants choose to violate these expectations while on the trip, the participant may be removed from the group and returned to campus at their own expense.
Program Time Commitment
Miner Challenge participants will be expected to attend every weekly team meeting. There will also be team social and service events each semester that participants are expected to attend, as well as all-program social and service events that will be optional. We will have 1-2 large fundraisers each semester, such as cookie dough and chocolate covered strawberries, and all participants are expected to contribute as fully as possible to these fundraisers by selling and helping to make products. Overall, Miner Challenge will require a 1-3 hour time commitment each week throughout the year, as well as full participation on the Miner Challenge trip.
Required Events
It is required that all Miner Challenge participants attend the following events:
October 2nd, 7-9pm: All-Team Meeting
October 23rd, 7-9pm: Social Justice Workshop Level 1
February 26th, 7-9pm: Social Justice Workshop Level 2
It is expected that all Miner Challenge participants attend the following events:
November 1-2, Time TBA: Making cookie dough (fundraiser)
January 23, 7-9pm: Miner Challenge Olympics welcome back event
February 11-13, Time TBA: Making Chocolate Strawberries (fundraiser)

April 18, Time TBA: Trivia Night Fundraiser
April 22, Time TBA: All-Team Spring Celebration
It is recommended that Miner Challenge participants attend the following events:
October 19, Time TBA: All-team service project and social
November 12, Time TBA: All-team bowling social
February 1, Time TBA: All-team service project and social
April 25, Time TBA: All-team service project and social
Program Cost and Financial Obligation
Program fees cover the costs of the alternative break trip, including transportation, lodging, meals, and excursions. All program fees are heavily subsidized by money earned through fundraising to keep the cost to students as low as possible. Participants will be expected to pay the following to participate in Miner Challenge (please note, fees vary based on the trip experience).
All Application Fees are due at the time of application, no later than September 20, 2019 at 4:30pm.
Payment Schedule
Students will pay for their experience throughout the year based on the following payment plans. Please note, the payment schedule is different for each type of trip.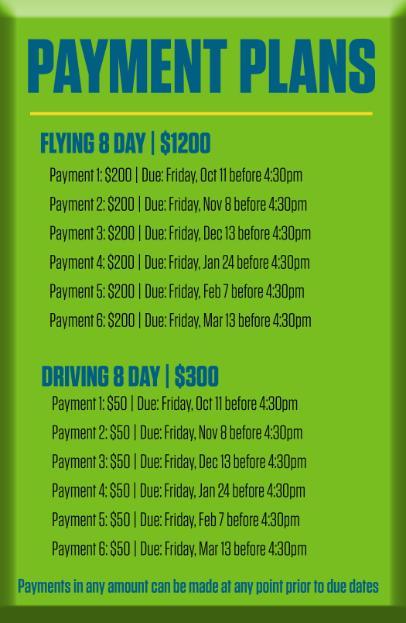 All payments are due on or before the date stated in the payment schedule and should be paid in cash or by check. Failure to meet payment deadlines will incur a late fee of $15.00. Miner Challenge reserves the right to review and drop participants for missing payment deadlines. Participants who are dropped as a result of non-payment are not eligible for a refund of any payments already submitted. Payments must be submitted to the Department of Student Life no later than the due date before 4:30pm.
Non-Refundable Payment Policy
Your payment is a sign of commitment to the Miner Challenge Alternative Break Program and will not be refunded. Exceptions to this policy include withdrawal from the institution, documented illness or injury that prevents a participant from traveling, or a documented family emergency. All requests for refunds must be made in writing to the Program Administrator for Volunteerism and Greek Life prior to the scheduled trip departure. Each request will be reviewed on a case-by-case basis by the Program Administrator and team leaders. Final decisions of the Program Administrator for Volunteerism & Greek Life in matters of refund may be appealed to the Director of Student Life within 5 business days.
Need-Based Scholarships
We offer need-based scholarships in order to help make our program more accessible to participants who demonstrate a financial need. Students must complete the scholarship application, and can be rewarded up to half of their trip cost in scholarship funds. Applications are reviewed based on need and dedication to the program, and decisions regarding scholarship funds are decided on a case-by-case basis. The scholarship application is attached to the international and domestic trip applications on OrgSync.
If you apply for the scholarship, you will also have the option to postpone the application fee if you are unable to pay it at the time of applying. If you want to be considered for this option, please contact the the Program Administrator (haywoodj@mst.edu) before September 19, 2019. Please note, the application fee will be due at a later date, regardless of whether you are accepted into the Miner Challenge program or not. We encourage you to pay the application fee when it is due, but please let the Program Administrator know if this is not feasible for you.
The scholarship application is to be written in essay or letter format describing why you think you should be awarded a scholarship. The application asks you to answer three questions, and should be answered with a minimum of 500 words:
1. Please describe your current financial situation that is leading you to apply for the scholarship.
2. The Miner Challenge Scholarship can cover up to half of the participant trip fee. Please describe how you plan on paying the Miner Challenge trip fee.
3. What will receiving this scholarship mean to you?
Fundraising
Fundraising is an integral aspect to making the Miner Challenge program possible. All participants are expected to actively participate in fundraising efforts and work towards raising money for the program. All money raised through fundraising goes directly towards covering program and trip costs, as well as providing need-based scholarships. Fundraising also helps keeps the participation fees low and the program as accessible as possible.
As a participant, it is expected that you demonstrate a commitment to fundraising and participate in all fundraising efforts. Due to the nature of this program, there are no exceptions to this requirement. We will have various fundraisers throughout the year, including making and selling homemade cookie dough and chocolate covered strawberries, a letter campaign and fundraising, as well as events such as trivia night and restaurant nights. Funds raised are considered as financial support for the Miner Challenge program as a whole, this includes funds contributed by the participants or others on their behalf. Funds contributed to the program go towards making all trips more affordable and covering expenses for travel, lodging, food, etc.
2019-20 Fundraisers:
Making and Selling Homemade Cookie Dough- October 7- November 6, 2019
Letter Writing Campaign- November 11- December 6, 2019
Chocolate Covered Strawberries- January 23-February 15, 2020
Trivia Night- April 18, 2020
All applications for Miner Challenge must be completed online through OrgSync by the closing date. Any applications received after the closing date may incur a $15.00 late fee on top of the application fee, or may not be considered.
Trip Preferences
As you complete your domestic application, you will be asked to select your top 3 trip choices and provide and explanation as to why you are interested in participating in that trip. We use your preferences to match you up with a trip experience.
Application Process
After applications are submitted, the Program Administrator for Volunteerism and Greek Life, Miner Challenge Mentors, and Miner Challenge Trip Leaders come together to discuss applicants and select teams. We carefully review your application answers and choose participants based off of depth and thoughtfulness of answers. As we complete this process, we try to build diverse teams across ages, majors, race/ethnicity, past volunteer and Miner Challenge experience, etc. We also take your trip preferences into account and do our best to place you on one of your top three trip choices.
Please note that you are not guaranteed a spot on a Miner Challenge trip simply by applying. All applicants are screened through the Dean of Students office for conduct, Title IX, or UCARE concerns before any invitations to join teams are extended; students who have faced disciplinary action on campus or who are struggling academically or personally may not be chosen to join Miner Challenge. We also may have more applicants than our trip capacity can support, and may have to turn some applicants away. Please remember that your application fee is non-refundable whether you are placed on a Miner Challenge trip or not.
Program Invitations and Acceptance
If you have been chosen to join a Miner Challenge team, you will be notified via email within a week of the application deadline. You must then complete a trip acceptance form online through OrgSync within three days to secure your spot on the Miner Challenge team. You are in no way obligated to accept an invitation to join Miner Challenge.
We will have our first event, an all-team meeting, on Wednesday October 2nd at 7:00pm. All participants are required to attend this meeting. Weekly small team meetings will start the following week.
Application Timeline (Tentative)

August 12th, 2019- Trip and scholarship applications open.
September 19th, 2019- Domestic trip and scholarship applications close. $25 application fee due.
September 25th, 2019- Domestic team invitations extended, participants accept by September 27th at 11:59pm
October 2nd, 2019- All-team Meeting Kickoff!
Questions?
If you have any questions about Miner Challenge or the application process, please contact:
Shelby Stoner- Miner Challenge Mentor for Leadership and Recruitment-slsrt9@mst.edu
Ashleigh Abbott- Miner Challenge Mentor for Marketing and Fundraising- ala7dc@mst.edu
Jessica Haywood- Program Administrator for Volunteerism and Greek Life- haywoodj@mst.edu